A Hidden Gem
Albuquerque, New Mexico
Aug 18, 2018
Expedia recently released an article that reveals the "Most Under-the-Radar Cities in America". There are many hidden gems throughout the US that truly show the beauty and wonders of the world, and we are proud to say that Albuquerque is one of them.
"In every direction from Albuquerque, the views are heavenly."
Albuquerque is iconically known for hot air balloons and of course, the Albuquerque International Balloon Fiesta® is a primary reason for that impact. Hundreds of balloonists travel from around the world to attend this bucket list event, filling the sky with the various colors of the rainbow, and offering the magic of flight to bystanders below.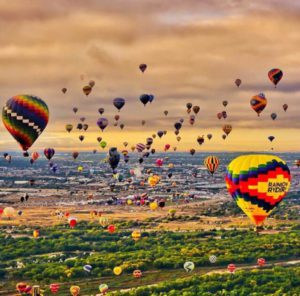 Rainbow Ryders took very seriously to the ballooning community and wanted to offer that experience first-hand, year-round. Now with flights 365 days a year and 7 days a week, they are truly honored to provide a one-of-a-kind Albuquerque experience to locals and travelers alike, in order to promote the incredible beauty of the state.
After realizing how much people love the art of hot air balloons, Rainbow Ryders chose to even further expand the experience and slowly grew into other states, bringing the ballooning community with them. They now offer the well known "Albuquerque Experience" in Phoenix, Las Vegas, and Colorado Springs.
Albuquerque is a true hidden gem that has exposed a beautiful bucket list item to the rest of the world.
So what are you waiting for? Hop in, lets soar the skies together!