Take your love to new heights
With a hot air balloon wedding!
Make your big day extra special and exciting by taking your vows to the clouds. Celebrate your wedding in a hot air balloon in any of our three locations.
Maybe you prefer the Phoenix and Scottsdale desert lifestyle with romantic views of the Sonoran Desert, or the deep-rooted culture in Albuquerque with breathtaking views of the Sandia Mountains. Perhaps outdoorsy Colorado Springs is more your speed with panoramic views of Pikes Peak.
Step into a gorgeous wicker basket connected to a balloon stitched with an array of colors that fill the sky. The peaceful bliss and crisp air surround you as you float slowly and seamlessly with the wind, a parade of colorful balloons dancing next to you.
We provide a mobile venue to allow flexibility in your planning. Packages can include the ceremony inside the envelope on the ground or up in the air. A pilot, an officiant, and your fiancé; that's all it takes to have the wedding of your dreams. Good thing we specialize in making those dreams come true! We can also accommodate up to 75 additional passengers in other balloons.
After the ceremony, share in a celebratory toast as a newly married couple. If you want a more elaborate celebration, the Rainbow Ryders team can handle all the details for your magical day including catering, florals, photography & videography, and anything else you dream of.
All flights are weather permitting.
Request Info
Call 1-800-725-2477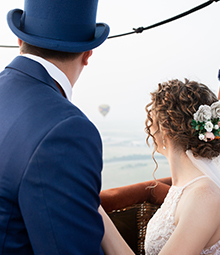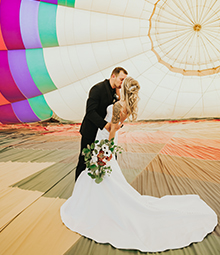 Unforgettable Moments
Show your loved one just how much they mean to you with the experience of a lifetime.
Rainbow Ryders' specializes in unforgettable moments and can cater to your dream proposal. The first step begins with location. We offer breathtaking views in three different states, giving you the flexibility to choose the right one for your moment.
Celebrate your unique love surrounded by the one-of-a-kind Sonoran Desert in Phoenix and Scottsdale. Or honor your unbreakable foundation in the strong culture of Albuquerque. Perhaps you'd prefer to start your life's newest adventure in the heart of Colorado Springs.
Along with the peaceful bliss and crisp air surrounding you as you float seamlessly with the wind, we can offer the opportunity for an extraordinary and rare proposal. Whether that means banners only seen from the air or loved ones awaiting your landing, we will help coordinate the day so all you need to worry about is one question.
" Will you marry me? "
All flights are weather permitting.
Request Info
Call 1-800-725-2477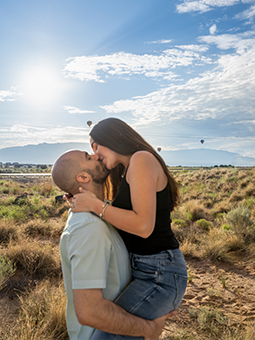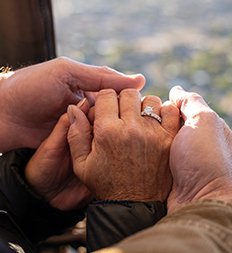 Rainbow Ryders x Whimsy Picnics
Elevate your bucket list experience!

Available for private flights only
Available in Albuquerque (Daily)
Includes:
Cute and cozy ground picnic set-up including rugs, pillows & throw blankets, table decor, full tableware, customized letterboard, beverage basin (including beverages) & charcuterie grazing box.
Additional Information:
Must be booked at least one week in advance. Passengers must have transportation to their picnic site from the office location
Picnic Locations:
Hartnett Park (picnic locations can be customized to accommodate guests)
Request Info
Call 1-800-725-2477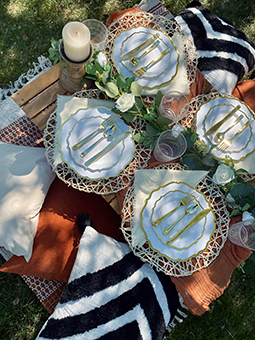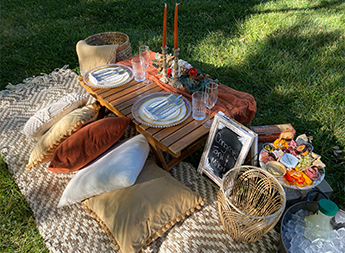 Our Happy Couples