What To Expect At The 2018 Albuquerque International Balloon Fiesta®
The greatest hot air balloon festival in the world!
Oct 4, 2018
Are you headed to the 2018 Albuquerque International Balloon Fiesta?! It's the most photographed event in the world, and for a good reason! The Balloon Fiesta is a world-renowned event for people of all ages who come to watch 700 balloons paint the sky from October 6th-14th. The mass ascensions (balloon launches) will begin at approximately 7 am but plan on getting to the extra park early as crowds have reached nearly 80,000 people.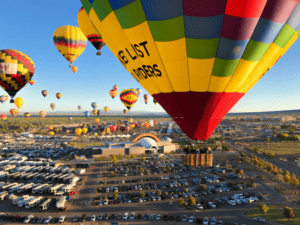 Here are some general tips for those attending:
Parking will cost $15 per car, per session on the day of the event. Beware payment for parking is accepted only in cash. Parking is first come first serve for both handicap and general parking. We recommend that festival-goers who have a ride with us make sure to get to the parking areas with enough time to make it to check-in. With the large estimated attendance, we do expect there to be plenty of traffic, so plan accordingly.
Admission will cost $10 cash per person, per session the day of the event. You do have to purchase an admission ticket on the day of your flight as that is not included unless you have received a VIP package. The sessions are broken down into morning and evening.

There will be concession stands for food, beverages, and merchandise from when the festival opens until closing. Enjoy live music? There will be bands and entertainment at the festival for your enjoyment! Some events during the mornings include laser light show, mass ascension, chainsaw carving, etc. Some evening events include the evening balloon glow, fireworks, and more! For a full breakdown of events, please visit:

http://www.balloonfiesta.com/event-info/event-schedule
Did you book a bucket list adventure with Rainbow Ryders? It's the ultimate experience and you'll be floating among the clouds with over 500 colorful balloons around you.
Please keep in mind the following if you have a reservation:
Plan on doubling your travel time to the meeting location and please arrive at our tent no later than 5 am for check-in. We are located just inside Green Gate 9 in the Rainbow Ryders tent. Dress accordingly as it can get quite chilly. We suggest wearing layers, closed-toed shoes, and sunglasses. Cameras are permitted and highly encouraged to get some amazing pictures of the mass ascensions and flight. If you paid for our Ryder's Club package, please bring all the appropriate materials with you: admission tickets, parking pass, Ryder's Club badges, and whatever else you may want to bring on your excursion. Be prepared for the experience of a lifetime!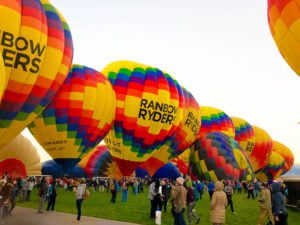 The 2018 Balloon Fiesta truly is the experience of a lifetime and exposes the beautiful culture of New Mexico. From hot air balloons to spicy New Mexican food, it's a thriving destination for locals and travelers alike. We hope your New Mexican experience provides memories you'll enjoy for years to come, and hopefully, bring you back in the future! We look forward to seeing you on the field – Happy Balloon Fiesta!
Questions?
Visit: https://www.balloonfiesta.com
Call Rainbow Ryders: 505-823-1111
Look for the Zebras! They are there to help you the day of with all questions.