Planning a Trip to the International Balloon Fiesta®? Here's What You'll Need to Know!
Jan 23, 2023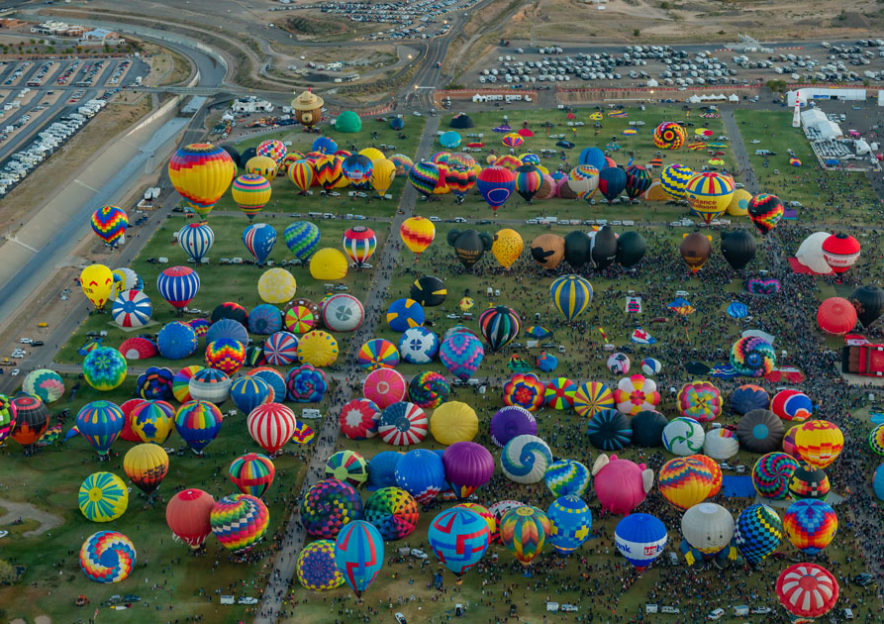 One of the most important tasks when preparing for a trip is packing. We have all endured the unfortunate experience of underpacking, packing for the wrong weather, or not packing appropriate clothes for an event. But we all know that planning a trip is much more than packing! It is important to consider not only what you will wear whilst at your destination but also, what you will be doing, your mode of transportation, what events require booking ahead of time, and so on. So, allow Rainbow Ryders Hot Air Balloon Company to be your guide for both packing and mentally preparing to attend The Albuquerque International Balloon Fiesta®.
WHAT TO WEAR
In terms of dressing yourself, it is important to remember that though the mornings will have you clutching a warm drink, come noon, you will be wishing for your summer clothes and ultra-strength sunscreen. Albuquerque in October takes on a fascinating 30-degree jump occurring between 4:30 am and 12:00 pm, so the best advice we have for you is this: LAYER! 
Come dressed warmer than you think you need to be, and pack a bag that will be able to hold all of your discarded layers as you continue to shed your winter wear. Hats, sunglasses, mittens, and ear muffs are all fabulous additions that will allow you to enjoy the magic of the Festival and a Rainbow Ryders hot air balloon flight without the distraction of poor packing. 
PARKING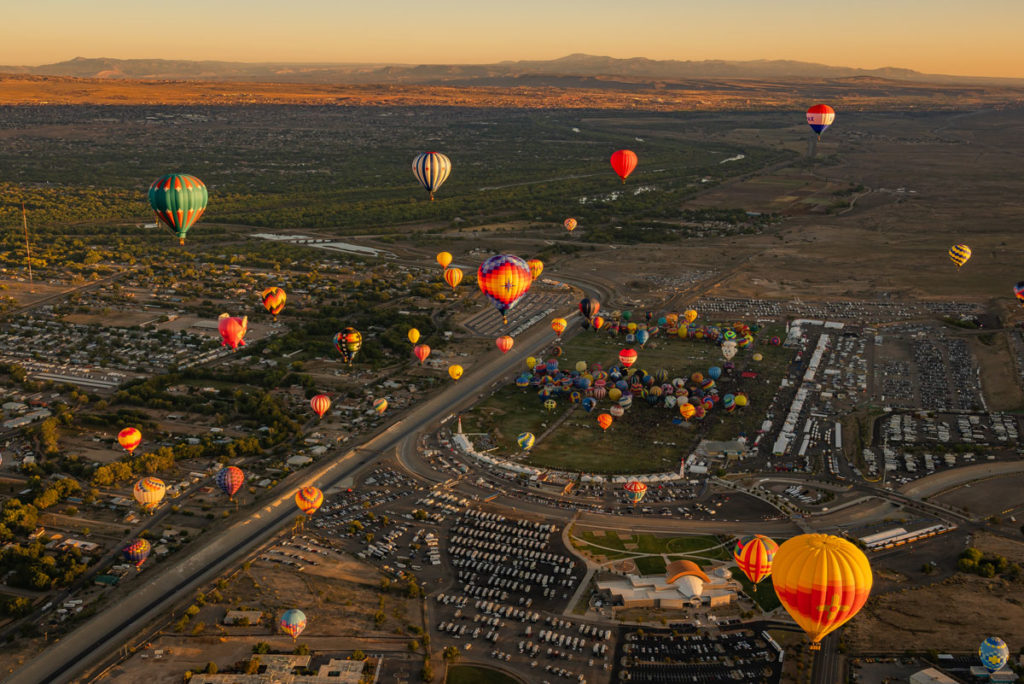 The park gates open bright and early at 4:30 am. Public parking is available at Balloon Fiesta Park, but consider yourself warned; it is first-come, first-serve, and spots fill quickly. However, if you're one of the lucky few who snagged a hot air balloon ride with Rainbow Ryders, you'll arrive early enough where that won't be of concern. Parking and traffic are the main reasons Rainbow Ryders asks our hot air balloon passengers to arrive as soon as gates open at 4:30 am. 
Biking to the park is also an option. There is a free Bike Valet service that will ensure your bike is safely stored while you are off enjoying the wonder of the gentle giants. 
Lastly, yes, Uber and Lyft are also available; however, if you don't know where to direct your driver, it can be difficult to get to the right spot, and they often get backed up in traffic as well. 
The main takeaway here: both in enjoying the Fiesta and exploring Albuquerque, renting a car and driving yourself is likely your best bet. 
WHAT TO EXPECT
Onto the next topic of concern, you made it to the park, now what?! If you booked a hot air balloon flight with Rainbow Ryders, you will head to our big white tent and begin your check-in process. Our lovely staff members will collect your information and provide you with instructions on the where (waiting area across from our tent), when (back at 6:15 am), and who (your pilot and balloon you'll be riding in). We will also have pictures posted if you want a sneak peek of your balloon before inflation time!
If you're an early bird and anything like us, you'll want to head directly to the nearest coffee stand and order yourself a hot beverage to warm you up and keep yourself wide awake. But, for all the non-coffee drinkers, there's something for you too! You can take a stroll down main street and purchase everything from mouthwatering breakfast burritos and famous green chile burgers to handmade arts and crafts, and sentimental keepsakes that remind you of your travels.
At 6:30 am, your hot air balloon pilot will lead you to your launch point, and there you will begin the ride of a lifetime! Once the balloon is inflated, our crew will assist you into our baskets, and with the raising of the green flag, you will ascend into the Albuquerque skies along with hundreds of other hot air balloons! 
So, there you have it! You can now consider yourself fully prepared for an experience of a lifetime. Whether you are coming to fly with Rainbow Ryders or marvel at the sights from the ground, you are sure to love every moment at The Albuquerque International Balloon Fiesta®!