Chase Crew Ride Along
A different way to enjoy hot air ballooning!
Jul 7, 2019
If soaring to new heights isn't your thing but you still want a hot air balloon experience, look no further than our Chase Crew Ride Along!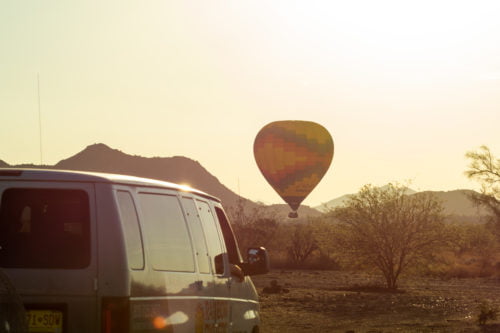 So your traveling companions want to go on a hot air balloon flight. They go on about bucket lists and adventure, but all you can think about is floating hundreds of feet above the ground in a wicker basket. Nevermind that Rainbow Ryders Hot Air Balloon Company has the best insurance policy around, nevermind their perfect safety record and strong reputation; it's just not for you! Nevertheless, some quiet part of you is haunted by the fear of missing out on the experience. What can you do?
Well, if your friends are flying with Rainbow Ryders, we might have just the thing! Our Chase Crew Ride Along is a great option for anyone looking to get a full hot air balloon experience – aside from, you know, actually riding in one! To give you a better idea of what to expect in a Chase Crew Ride Along, let's walk through the experience from beginning to end.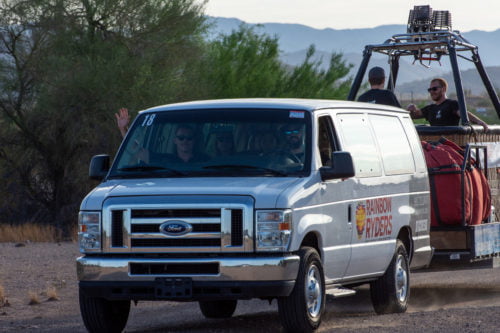 Your day would begin by gathering at the meet location with your traveling companions. You would check-in and meet the experienced pilot that would be flying your friends 1,500 ft. in the air in less than an hour. Soon, you would pack into a van with your pilot, chase crew, and all the people who would be sharing a basket with your pals. As you drove to the launch site, the pilot would answer questions and chat with the passengers. Our team is made up of very experienced professionals, and as such, they love nothing more than answering questions about the things they know best!

At the launch site, everyone would hop out of the van and watch as the pilots and crew started setting up the equipment. Ever wanted to help inflate a hot air balloon? Our team is always happy to get a helping hand during set-up! Get pictures with your friends as the balloons inflate around you in a blossoming of color. Then the time would come for your friends to climb into the basket (which looks a lot more sturdy now that you see it up close). You would watch as they slowly lifted into the sky, waving until they drifted too far away.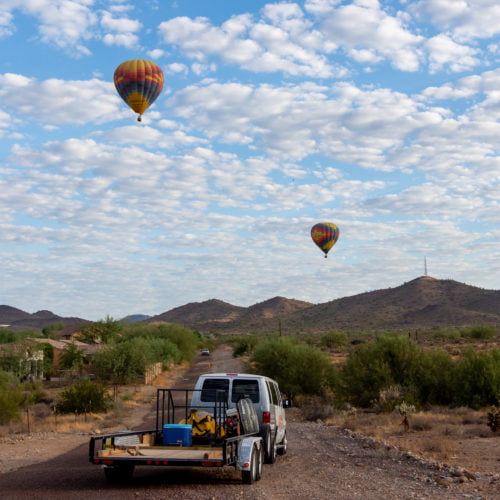 As they began their adventure, you would begin yours. You would join the chase crew as they packed up and climbed back into the van. They would follow the pilot from the ground, communicating with him on radios as they expertly navigated the city to predict the eventual landing spot. During the drive, the chase crew would be friendly and informative, happy to stop for snacks, or to fill out the first flight certificates for the passengers after they land. As the pilot drew nearer to descent, the chase crew would anticipate the landing spot and you would join them as they got out of the van and prepped for landing.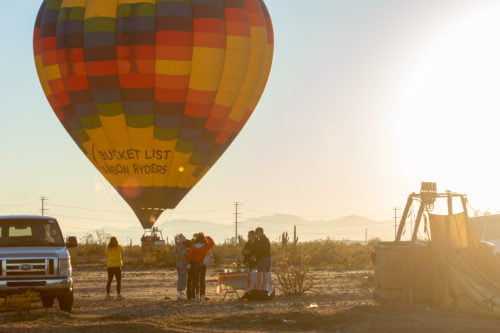 As the balloon neared, you would see your companions waving from the basket again, and you would greet them on the ground as they climbed out of the basket. As the chase crew packed up the balloon, the pilot would gather everyone for a post-flight celebratory toast. You and your friends would swap stories over champagne and mimosas until it was time to get in the van again to drive back to the meeting point. If you were at our Albuquerque or Phoenix locations, you would enjoy a light breakfast with your friends upon your return to the meeting location.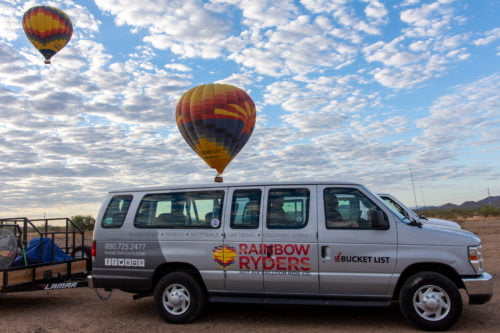 We would always love to fly with you, and we can assure you of the safety and security of your flight if you chose to do so. But we understand that ballooning is not for everyone! Join us on a Chase Crew Ride Along to share this memorable experience with your friends and family without braving the flight itself! And maybe, at the end of the day, we'll have convinced you to come back another time to share a hot air balloon adventure with us!