A Message to Our Passengers
Rainbow Ryders COVID Safe Practices
Apr 23, 2020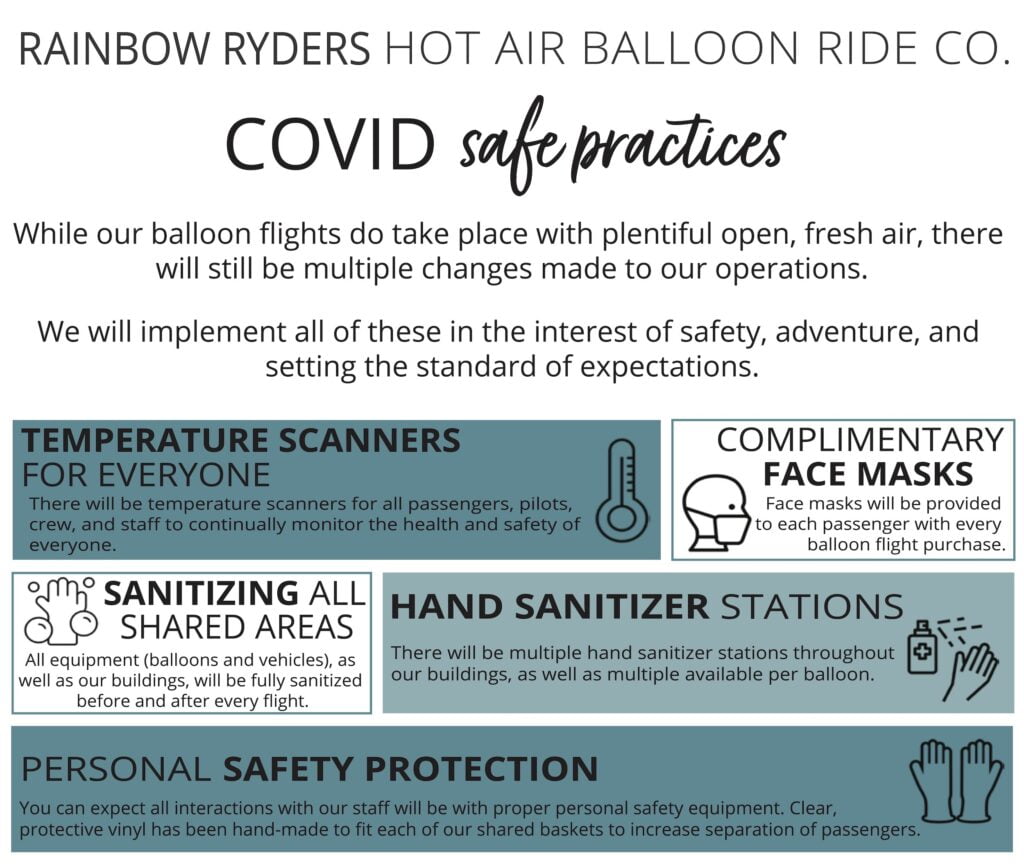 The flight team here at Rainbow Ryders has spent every day of the last four decades checking off bucket lists from people around the world. Now, we spend every day trying to figure out ways to bring a smile to faces that are in desperate need of a distraction and some joy, finding ways to spread the light and love the comes with hot air ballooning, and most of all keeping our passengers, our friends, and our families safe through it all.
As the largest hot air ballooning company in the United States, we pride ourselves on setting the precedent and going above and beyond expectations for safety regulations and for the experience of our passengers. We will continue that precedent moving forward into this new phase of our lives. We had kept our aircraft grounded during the stay-at-home orders in all of our cities. As those began to lift, so did our balloons.

While our balloon flights do take place with plentiful open, fresh air, there will still be multiple changes made to our operations. We will implement all these in the interest of safety, adventure, and setting the standard of expectations.
There will be temperature scanners for all passengers, pilots, crew, and staff to continually monitor the health and safety of everyone
There will be multiple hand sanitizer stations throughout our buildings, as well as multiple available per balloon
We have ordered face masks that will be complimentary with every balloon flight purchase
You can expect all interactions with our staff will be with proper personal safety equipment (gloves and masks at all times)
All equipment (balloons and vehicles), as well as our buildings, will be fully sanitized before and after every flight
We have implemented vinyl partitions in our shared basket flights to help assist with the distancing and separation of parties.

If you do book a shared basket, we have taken steps to ensure your safety by also greatly decreasing the number of passengers carried in each balloon. However, please be advised, that you will still be traveling in a van to and from the launch/landing site and in a balloon basket with 5 – 8 other people (depending on the number in your party).

We have been working tirelessly to be able to still bring you an adventure worthy of your bucket list, especially in a time like today. We've done the planning and preparation because we've all had our fair share of worries; it's time for some sunshine.
In the meantime!
Book Now!