30th Annual Cheez-It Bowl
Chase Field in Phoenix, AZ
Dec 20, 2018
The 30th Annual Cheez-It Bowl will be bringing the action to Chase Field in Phoenix, Arizona on December 26th, 2018. The California Golden Bears will be taking the field against the TCU Horned Frogs and we couldn't be more excited!
We will be spending our week celebrating the holidays, enjoying some college football, and adventuring, and we would like you to join us for all 3!
Rainbow Ryders will be offering balloon rides throughout the holiday week and we welcome you to add some magic to your family and friend get-togethers. Take a breathtaking sunrise balloon ride before the big game, or celebrate your teams win with a gorgeous sunset flight the following day – we'll be sure to help you celebrate the big W!
This time of year is the perfect opportunity to experience the beauty of the desert. We will float peacefully above the Sonoran Desert where the iconic Saguaro Cacti rest below, offering a photogenic nature shot that you don't want to miss. Often times wildlife will be running free throughout the desert landscapes and it's not uncommon to see horses galloping graciously across the Sonoran landscape. And we can't forget the sunrises and sunsets that take place in the Grand Canyon State – you'll be mesmerized by the colors splayed across the skies on your bucket list adventure!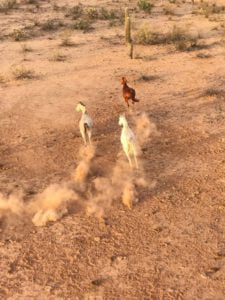 Turn your weekday getaway into the ultimate adventure. Football, friends, and flight – let's get the party started!