Take Your Las Vegas Adventure To New Heights
Let's Go Flying!
Jan 24, 2018
We recently opened our fourth location in the bustling city of Las Vegas, Nevada, and we couldn't be more excited! With the timeless Las Vegas strip and the gorgeous Red Rock Canyon, this is an adventure of a lifetime. Experience the magic as you peacefully float over a serene desert full of beauty and wildlife, all while relaxing in a colorful hot air balloon. Those views can be yours! Grab your friends, family, and hop in. Let's go flying!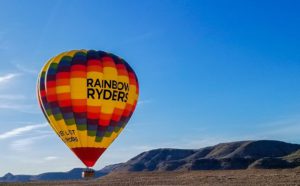 Our pilots are highly trained to create the safest environment possible from beginning to end, and they can also provide you with some new knowledge about the sport of hot air ballooning, as well as some fun facts about Las Vegas. Think of them as your own personal tour guide, only instead of a tour bus, you get to soar in a balloon! They can also grab a picture of you and friends in front of these gentle giants for memories that'll last you a lifetime.
We are currently running a grand opening special of $149 per person, with children ages 5-12 being $99. This price won't last forever so be sure to give us a call, book online, or stop by our office to grab your spot among the clouds. We'll see you soon!