First-time Flyer at the Albuquerque International Balloon Fiesta
Jan 15, 2023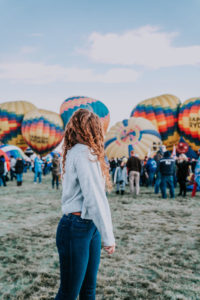 Growing up, I had no clue what I wanted my career to look like – I just knew that whatever I did needed to be fun. So, when I landed a job as a sales and marketing associate at Rainbow Ryders Hot Air Balloon Ride Co. I felt right at home. Upon my acceptance of the job, the Rainbow Ryders team notified me that I would be "baptized by fire" and would be joining the team in their busiest season of the year; you guessed it: The Albuquerque International Balloon Fiesta®. Being a born and raised Phoenician, I was familiar with the festival (or at least the Instagram photos my friends posted while there), but that was the extent of my knowledge. I had no clue what I was getting myself into as I created cute little badges for everyone to wear and laminated and cut various materials. It wasn't until I sat down to review the schedule that I noticed my start time was 3:00 AM and realized I needed to prepare for a different type of ballgame. I talked to my veteran coworkers and asked how to pack, what to prepare for, and how I could be the most helpful. The overarching themes were to dress warm, pack layers, go with the flow, and be prepared to live off energy drinks and chaos!
Boy, were they right! When I got to Albuquerque, I was blown away by the sheer magnitude of the event – not only the tents and vendors but people from all walks of life and every corner of the world coming together to be spectators at an event that you genuinely have to see to believe. My first day was a blur. Our team gathered in the Rainbow Ryders tent bundled up with piping hot coffee, a clipboard, and fingers crossed for the green flag signaling that flights were a go. Throughout the morning, I would greet passengers, get them checked in for their flights, and hear bits and pieces about what brought them to Albuquerque. For some people, it was a family tradition they looked forward to every year, while others were international travelers who planned their entire trips around the event! No matter where they were from or how far they had traveled, everyone shared a common hope: to experience the magic of flying in a hot air balloon during the world's premier and largest Hot Air Balloon event.
Part of my job was to photograph our balloons during the mass ascension. By this time, I had seen countless pictures of hot air balloons at the festival and didn't expect to be blown away like other spectators. I mean, I worked for a hot air balloon company, right? Wrong! There were moments when I had to put the camera down and simply take in my surroundings. I could not believe I was watching hundreds of balloons dance through the sky and peacefully float off in the distance. Like everyone else around me, I too, was getting to experience a once-in-a-lifetime opportunity; the magic of the Albuquerque International Balloon Fiesta®.
So, if you find yourself asking the question, "is it worth waking up early and traveling to New Mexico to attend the Balloon Fiesta? The answer is, unequivocally yes! Life is short, the world is vast, and it's essential to make "bucket list" memories that will last you a lifetime!