Balloon Fiesta Makes Top 50
A World Renowned Balloon Festival
Jan 4, 2016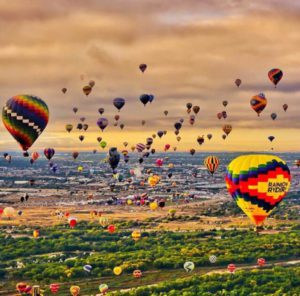 Balloon Fiesta is listed as number 14 on the Top 50 Festivals and Cultural Events. This list recognizes the most popular events and festivals around the GLOBE!
"The Albuquerque International Balloon Fiesta is a yearly festival of hot air balloons that takes place in Albuquerque, New Mexico, USA during early October. The balloon fiesta is a nine-day event and has around 750 balloons. The event is the largest hot air balloon festival in the world."
Take a ride with us during the 2017 International Balloon Fiesta! Rainbow Ryders is the only hot air balloon company allowed to lift off from Balloon Fiesta grounds among the mass ascension of over 750 balloons. Spend this magical moment with us and make memories you won't forget. Book your flight today!
To see the complete list of most popular global festivals, visit their website here.