Albuquerque Best of the City Contest 2019
Vote for Rainbow Ryders!
Jul 10, 2019
Please make sure to vote for Rainbow Ryders in the Best of the City Contest hosted by Albuquerque the Magazine!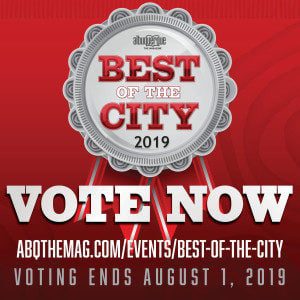 Rainbow Ryders Hot Air Balloon Co. has been a part of the Albuquerque community for 38 years! We love our community and we are proud to be a part of this city. The Best of the City contest is upon us again, and we would like to thank you for awarding us the "Best Balloon Rides" award for the past seven years, and the "Best View of the City" award last year! We hope we can count on your votes again this year – take a look at the categories in which we'd love to have your support!
Best Balloon Rides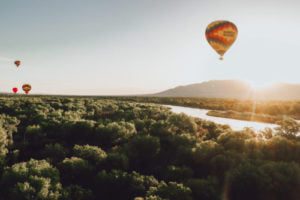 At Rainbow Ryders Hot Air Balloon Co., we pride ourselves on offering the most professional, adventurous, and safe Hot Air Balloon flights out there! Our pilots are highly qualified and knowledgeable in order to offer you the best experience possible. We make sure every flight is special with our post-flight champagne toasts and breakfast. Our team is committed to helping every passenger cross an item off their bucket lists with a smile—come fly with us and we'll prove it!
Best View of the City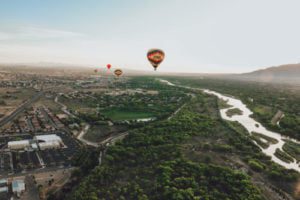 Albuquerque is a beautiful city, and there's no better way to appreciate it than from the basket of a hot air balloon! Fly low over the Rio Grande river and thousands of feet up to see the sun peaking over the Sandia Mountains – there's nothing quite like it. Our views are varied, unique, and stunning in every sense of the word!
Best Place to Pop the Question
A proposal is one of those precious moments in life that you will always remember – make it special by flying with us! We have dozens of proposals every year, and we treasure every opportunity to make hearts soar. There's no better way to escape the ordinary than in a hot air balloon!
Best Place to Get Married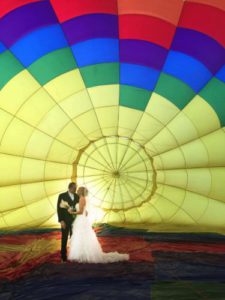 What better way to start the adventure of a lifetime than by sharing a bucket-list adventure in the sky? We host roughly twenty weddings a year and are always honored to help dreams take flight. Weddings with Rainbow Ryders are magical!
We love you, Albuquerque! We're dedicated to keeping your heads in the clouds. Click the link below to give us your vote!
Vote Here!