2019 Albuquerque International Balloon Fiesta
The world's greatest hot air balloon festival!
Jul 15, 2019
Did you know that Rainbow Ryders Hot Air Balloon Co. is the official balloon ride operator of the Albuquerque International Balloon Fiesta?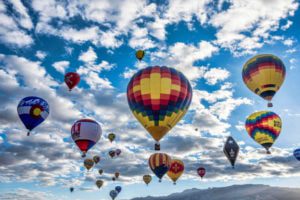 Rainbow Ryders is proud to be the only balloon ride company authorized to take off from Balloon Fiesta Park during the Balloon Fiesta! So what is the Albuquerque International Balloon Fiesta? Well, for one thing, it's a 9-day hot air balloon event held in Balloon Fiesta Park. With over 500 balloons, it's the largest ballooning event on Earth, the most photographed event on Earth, and the largest annual international event held in the United States!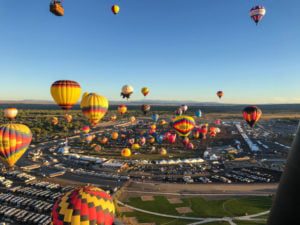 Imagine 54 football fields put together; that's the size of Balloon Fiesta Park's 78-acre launch field! Now imagine that enormous space filled with 500 hot air balloons and countless smiling faces! On October 5th-13th, tens of thousands of visitors from all over the world will be coming to Albuquerque to celebrate ballooning.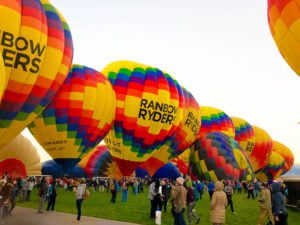 Every morning of the Balloon Fiesta will feature a mass ascension of hundreds of hot air balloons lifting off to fill the Albuquerque sky. The park will be filled each day with vendors, live music, and fun events like chainsaw carving competitions and professional skydiving shows. At night, the park will light up with balloon glows, as hundreds of burners simultaneously ignite, transforming the Park into a wonderland of colorful balloons!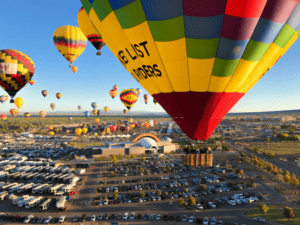 There's no better way to truly experience the grandeur of this event than from the basket of a hot air balloon! Experience the contrast between spectator and participant as we take you up with hundreds of other balloons; it's a ride like no other! Spots are filling up fast, so call us today! We would love to help you make your Balloon Fiesta experience extraordinary. Click the link below to book your adventure!
Learn More