Balloon Fiesta Early Bird Special
Don't miss these special deals!
Dec 29, 2018
Rainbow Ryders is now taking bookings for the 2019 Albuquerque International Balloon Fiesta and we invite you to take advantage of our EARLY BIRD SPECIALS! We LOVE the spectacular October magic and want you to experience it with us. Our special pricing is only available for a few more days, so take advantage and book today! Contact us here.

Find out more about the Albuquerque International Balloon Fiesta here and read about the event below!
Every year over 500 balloonists travel to the enchanted state of New Mexico in preparation for the most photographed event in the world, excited to fill the sun stained skies with color and magic. It's an event full of early mornings and chilly weather, but thousands of people from all over the world wake up excited and filled with awe to experience such a unique event. The gentle giants slowly take life on the green, lush Fiesta grounds, with crew members buzzing around ready to get the balloons in the air and among the clouds.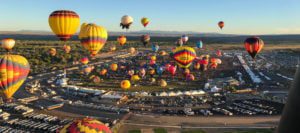 The whole process is mesmerizing and magical and allows visitors to walk around experiencing an up-close and personal view of the hot air balloons. There are many vendors at the event as well, so we've got you covered for that morning coffee fix, fried food craving, or local shopping excursions. Once the balloons begin to lift off, stick around and grab that camera because you'll be wanting to grab some colorful shots as the colors begin to fill the skies.
The Balloon Fiesta is one for the books, and even more memorable if you're able to snag a ride in a balloon and experience the event from a bird's-eye view.
What are you waiting for, plan your Fiesta trip today!